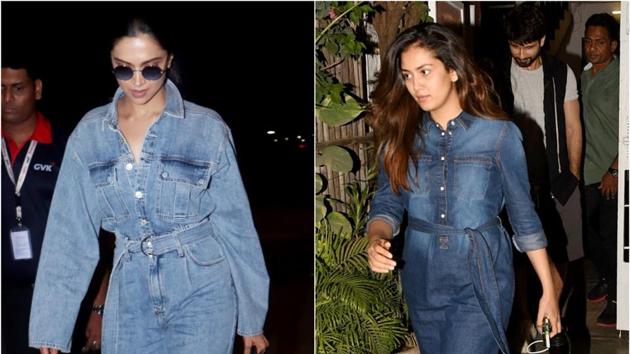 Denim is, after all, the fabric of the people; it's simply too popular to be limited to a single item. The look of denim has proven to transcend all of these different styles. And it's precisely this ability to transcend that makes doubling up on it so appealing.
Roots of Denim:
The roots of denim are stretched back to France, one of the fashion capitals of the world and started out as a fabric known as "serge de Nimes".
Blue was the only colour available at the time and this is why modern jeans are predominantly available in blue hues.
Levi Strauss and Jacob Davis history of denims:
Denim was first brought out on May 20, 1873. On that day, Levi Strauss and Jacob Davis received the first U.S. patent for the process of inserting rivets into men's work pants.
Being a dry goods merchant, Levi Strauss arrived in San Francisco in 1853 at the age of 24 to establish a West Coast branch of his brothers' wholesale dry goods business in New York. Over the next 20 years, he grew his company into a highly successful enterprise, earning a reputation not only as a successful businessman, but also as a generous local philanthropist
Davis created the first pair of jeans by using Levi's denim and copper rivets to reinforce key stress points. He went into business with Levi because the material was so important to the final product.
Origin of Denim-on-denim look:
A denim-on-denim look also known as a Canadian tuxedo, a term coined in the 1950s after American singer-actor Bing Crosby was refused entry to a hotel in Vancouver, Canada, due to his all-denim ensemble.
It can be quite intimidating to try it for ourselves, even though we see street style stars pull off the look flawlessly.
With that note, let's see how we can pull off that denim-on-denim look:
Make it all black and white!
Having said that, monochromatic isn't entirely out of the question. If the thought of mixing multiple colors overwhelms you, go monochrome.
Make sure your entire outfit is from the same brand.
It gives you a really nice high and low without you having to walk down the street and let everyone see you coming.
Combine a denim jacket with jeans!
Denim jackets are sexy, comfortable, and a wardrobe must-have! Try to juggle it with a white T-shirt and denim jeans and your double denim look can be doubly good. The combination is surprisingly fashionable and ideal for casual outings.
Denim on Denim in dark colors!
Choosing dark denim in complementary colors is an interesting way to go double denim.
When you combine some dark denim shades, for instance: black, to your denim outfit gives you another foolproof option for pulling off a denim on denim look without having to worry about shades of blue blending together.
Wear larger bottoms and fitted shirts!
Pairing the High Rise Wide-Leg Crop jeans with a perfectly worn-in denim shirt from day one is the simplest way to achieve double denim perfection! Start with a slightly more fitted shirt and tuck it in to style Wide-Leg crops. If you don't want to tuck your top in, a slightly cropped top will do the trick.
If you want to be trendy, pair this outfit with flip flops or heeled sandals.
Combine the new and the old!
Combining old and new strikes both contemporary and timeless. For example, wearing a vintage trucker jacket with a pair of black jeans.
The best way to pair denim pieces together, whether it's a denim shirt and jeans, a denim jacket and jeans, or even a denim jacket on a denim shirt, is to have different levels of wear on the items. I frequently wear a raw denim jacket and a pair of jeans, but my jeans are extremely worn in.
Colors should be used sparingly.
If you are a beginner and find it difficult to pull off the denim-on-denim look, begin by pairing different shades of denim together. Wear a variety of denim colors together for a striking all-jean look.
If you want to be daring, replace the light denim jeans with a brightly colored pair.
This outfit looks great with sneakers if you want to keep it casual, or with booties if you want to go all out.
Deepika Padukone as Levi's Brand Ambassador:
Deepika Padukone, the first female celebrity to be named the brand's face in India, will be seen spearheading the new campaign, which will highlight a new range of fashion fits from Levi's.
Levi's announced the appointment of actor Deepika Padukone as its global brand ambassador. The association, according to the denim brand, will help it attract a new generation of female consumers as it seeks to expand its women's wear category.
Levi's attributed this growth to a variety of factors, including increased growth in the women's denim category, a profitable store network, and improved direct-to-consumer business.
Conclusion:
With these tips, you'll be able to pull off denim on denim looks on your own. Though it is tricky, denim on denim. When done correctly, it looks amazing—but one minor blunder and you could end up having a disaster look.