Anita Dongre, a fashion designer from India and the founder of the Indian fashion house "House of Anita Dongre". AND (western wear), Global Desi (boho-chic brand inspired by Indian folk tales), and her signature label ANITA DONGRE are currently housed in the House of Anita Dongre.
The love of runways combined with the love of shopping can only result in a lot of excitement. Some of these runway outfits, on the other hand, you may never wear again. We urge you to be aware of what is new on the runway so that you can wear your new attire for more than a season. Knowing what you want, let's have a look at some of the latest looks launched by Anita Dongre:
Lehenga look from Runway
It's moment to be influenced by Anita Dongre's collection because her designs are one-of-a-kind and refreshing. If you want all eyes on you, this beautifully detailed lehenga is the way to go. The overall yellow tone, combined with blue and green shades, has definitely set the spring tone without going overboard.
Kareena Kapoor Khan from Lakme Runway
At the Lakme Fashion Week Runway, the moment that everyone had been waiting for arrived. Kareena Kapoor Khan walked the runway at the grand finale of the most prestigious fashion week. The actress had been closing the fashion week for several years, so it had become quite a routine for her. However, this is the first time she has walked down a runway since giving birth to her first child. As a result, it added to the significance of the occasion.
Kareena Kapoor Khan looked royal in a specially designed Anita Dongre ensemble. The actress wore a long white gown with a shimmery cape. Her dress's embroidery was out of this world, and she looked like a dream.
At Lakme Fashion Week: The Jaipur Bride
It is a combination of gorgeous Gotta Patti Lehengas with a show that is just buzzing with energy. The Absolute Royal Collection, Street Style and Beauty, Top Beauty Trends, and so on. Elegant lehenga, Anita Dongre's entire white collection was to die for!
Anita Dongre's 'Tree Of Love' Collection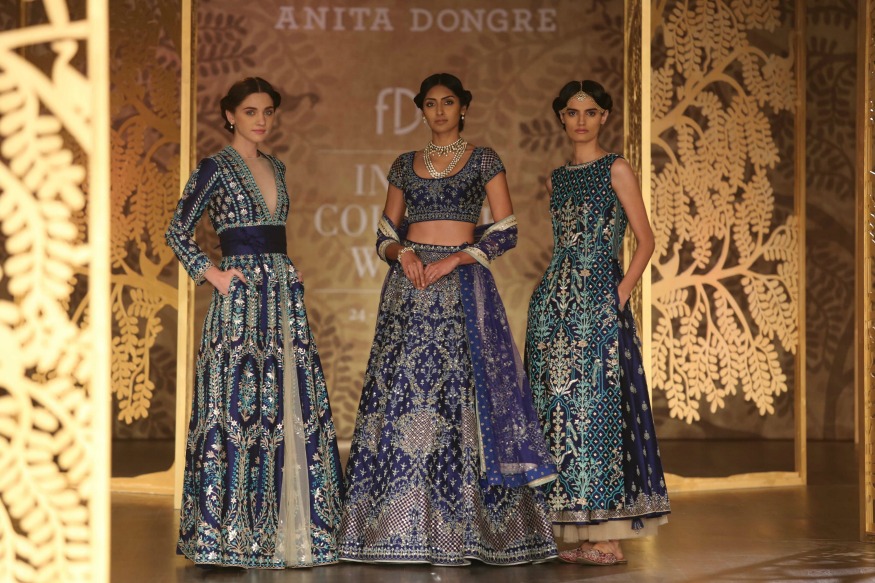 Anita Dongre presented her collection titled 'Tree of Love' at the Taj Palace hotel in the capital.
At the event, the acclaimed designer brought her sensibility of effortless luxury combined with comfort to life with ensembles that were not only a treat to watch on the runway but also a design fusion breakthrough for Indian Couture.
The incredible collection that the designer displayed at the event wowed the audience. Anita's signature style was featured, as well as Indian aesthetics that were very contemporary, for a bride who is resplendent, confident, and radiant—a woman of today.
Nature was celebrated through the use of tree and bird motifs in the ensembles.
Conclusion:
Dongre has built a veritable empire in the last two decades, with her designs available under three distinct brands: AND (Western wear), Global Desi (ethnic wear).
Dongre's strength is her ability to learn and adapt, as well as the fact that she combines creativity with a keen business sense.